And we're back! After a blogging hiatus, I'm back to blogging, starting first with a "running is a metaphor for life" post which is also a "Yes, I'm running for Team Taller de José again" post. And in case you need a reminder, or you didn't know me in 2012 or 2014, here's an update on what Taller de José is.
Who's going to catch me when I fall?
I asked myself this question in a sudden panic a few weeks ago when I realized this would be the first finish line I would cross without Running Buddy (since I started long distance running).My body has developed this annoying habit of getting really.nauseous. at the end of every race when I try to kick it into high gear. Without getting too graphic, because there is nothing to be graphic about, at the end of every race, I double over like I'm going to throw up, I grab for Running Buddy to steady me, and I have never (yet?) actually thrown up. Woohoo!
But this race, my 3rd marathon, will be the first race without Running Buddy. She will of course jump in for about 5 miles near the end, but she won't be with me at the actual end. And thus I may fall over at the finish line. Don't panic, I'm always fine. (Though maybe if I do fall over, the magical golf cart will take me to my belongings so I won't have to walk? Hmmm… 😉 ).
I think that might just be it, actually. "Don't panic, I'm always fine."
Sure, there are many ups and downs to running, as there is with life.
Sure, I may legit fall over at the finish line because my stomach decides to overreact to kicking it up a notch. Every. time.
Sure, I will be wishing I had my Running Buddy to catch me because she not only catches me, but realizes that I'm not dying and I'll just gag a little and move on.
But also as sure, falling over is not failure. Some people even win gold medals while falling over the finish line. Okay, okay. Diving over the finish line.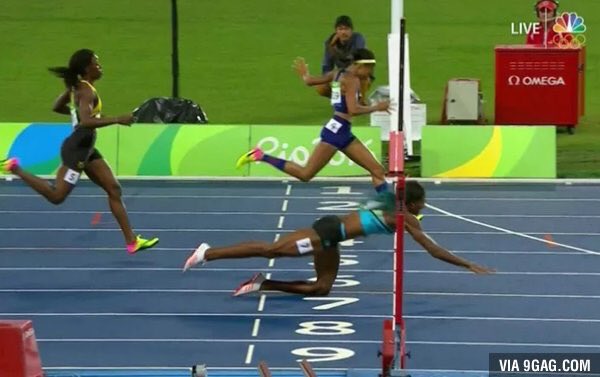 Also sure, the ups and downs of running-and life-are just that…ups and downs. Specifically, if I literally fall down at the end of the race, if I puke, if I cramp up and walk, or whatever the case may be, the "down" is not the end of the story. Life goes on. The race, the journey, continues. Resurrection is ALWAYS the end of the story. Love wins.
And most sure, I know I have many people to metaphorically catch me when I fall:
Running Buddy will run miles 21-25 or so with me. That's a way of catching me when I'm at risk of falling (e.g., hitting THE wall)
Numerous supporters will cheer me on throughout the race. That's catching me when I'm choosing to do hard things for fun 😉
Many of you may choose to support me financially as I accompany Taller de José with my fundraising efforts. That's catching many people when they're falling and in need of someone to help them.
Most importantly, if I fall at the finish line on race day, it doesn't matter. I have amazing pillars in my life who catch me when I fall and truly need the support. Thank you for accompanying me. I try to pass it on.
So who's going to catch me when I fall? All of you. Metaphorically, of course.
P.S. If you want to help metaphorically catch me by supporting my running for Team Taller de José, please click here. Taller and I appreciate any amount…and your prayers! Thank you!